What percentage of properties sell for more than asking price?
Not every property is selling for more than its asking price this year, but just about half of them are. This wasn't always the case. Even during the 2005-06 boom, less than 20% of homes sold for more than asking price. Since the Greater Boston housing market's awakening in 2012, it seems that 'over asking' is the new norm.
At the request of one of our clients looking for some real-time 'over-asking' numbers, I pulled together some stats from MLS to look at these remarkable trends.
Below are three charts: The percentage of property that is selling for more than asking price, the average sale price to list price ratios, and the average sale prices. For comparison's sake, I used Jamaica Plain, Somerville, Cambridge and Roslindale.
Bear in mind that the 2016 numbers are only reporting through June 22nd; they could change by year's end, but it's doubtful, at this point, that they will weaken.
Percentage of Properties Selling OVER Asking Price by Year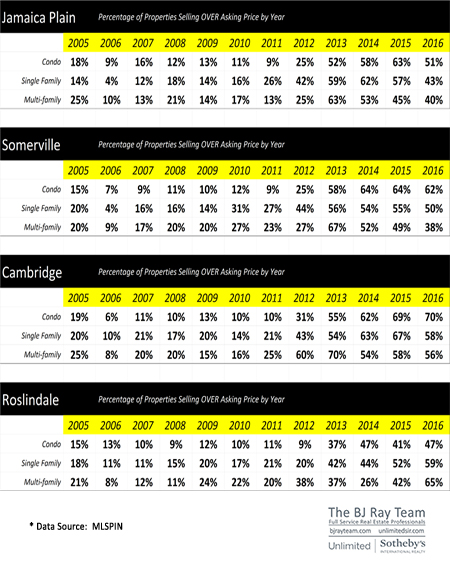 Historically, the average list price to sale price ratios fall within 96%-98%. Since 2012 that hasn't been the case. The bigger question is when these numbers will 'find the norm' and return to their historical averages.
For what it's worth, in Jamaica Plain 2016, the average sale to list price for properties that DIDN'T sell over (or at) asking price was a hair over 97%.
Average List-to-Sale Price Ratios by Year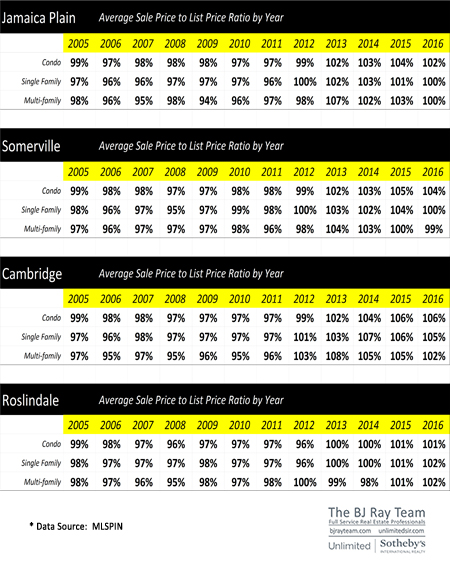 Sale prices, so far for 2016, are up again over the previous year. With the exception of the JP single family market (too few sales to represent a meaningful drop) everything is going up!
Average Sale Prices by Year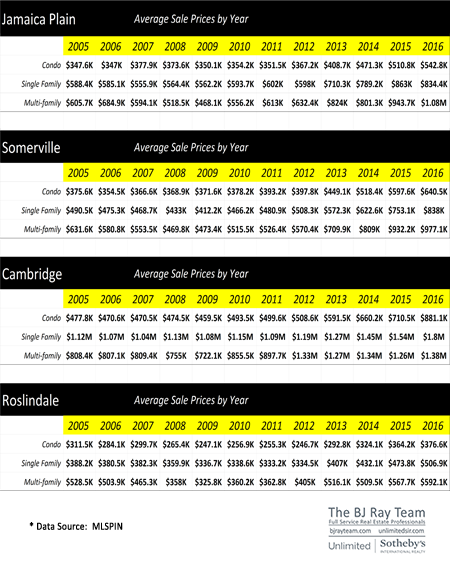 As always, if you want intelligent, well-sourced and insightful real estate advice, don't hesitate to give us a call. We are consummate professionals with more than a decade of experience in the Greater Boston market. We know the market as well as anyone and client-care is our #1 focus.